Are You Looking for an Outdoor Heater?
admin
Outdoor heaters are an excellent commodity for many businesses, including restaurants, pubs and hotels. Thanks to COVID-19, outdoor spaces have become an even more popular staple for commercial buildings, with many people preferring to sit outside instead of being indoors in public areas. But as we head into colder months, it will be more and more challenging to make use of the great outdoors if customers can't be kept warm.
This is where outdoor heaters can help. They can battle against the chilly elements, allowing your clients to keep their outdoor spaces open even in winter, increasing the number of people they can serve and allowing them to serve those that don't feel comfortable being inside.
Here's what you need to know about outdoor heaters.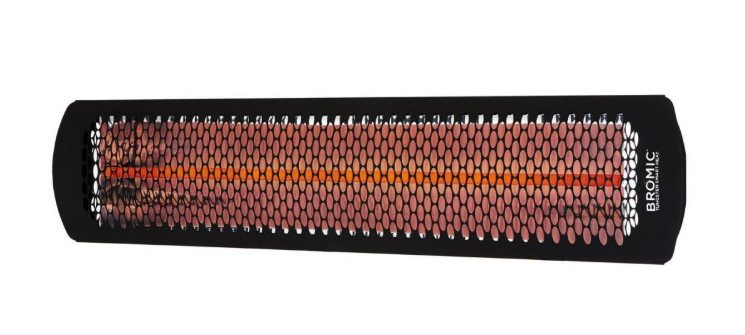 Image: Bromic Electric Heaters
Will Your Client Want Electric or Gas?
Both electric and gas heaters are popular choices for outdoor models. They both have their own advantages, and one will be more suited to a space than the other. Here's a breakdown of each model to help you make a choice:
Electric
Electric heaters are great for keeping outdoor spaces warm. When a customer has a space that lacks the appropriate ventilation that is required for gas heaters, electric is the preferred choice. Electric heaters come in stylish varieties and can be freestanding, tabletop and wall-mounted.
They simply need to be plugged in, and they're ready to go, making them an easy heater to get set up. These heaters are safe for smaller outdoor spaces and can be placed virtually anywhere, provided there is an outlet. Electric heaters do, however, take longer to heat up a surrounding area than their gas counterparts.
Gas
Gas heaters provide plenty of heat to well-ventilated outdoor spaces. They provide quick, efficient heating to larger areas and can keep an entire party of people comfortable.
Due to the combustion of natural gas, these heaters have a greater heat output than electric models. They are also available in a range of designs that can blend seamlessly into the outdoor décor. They require professional installation and need to be fixed to gas lines as well as be placed in a well-ventilated area for safety.
So, when your customer chooses between electric or gas, it will depend on the size of their outdoor space, how well ventilated it is and whether they have an outlet or gas line available to run the heater.
Image: Bromic Platinum Gas
What Space is Needed for an Outdoor Heater?
Fortunately, not a lot of space is needed to house an outdoor heater. There are many different models all designed with specific space requirements in mind. For example, both gas and electric models are available in wall-mounted models, which are ideal for optimising space in a commercial property. While freestanding commercial patio heaters can make an attractive addition to an outdoor space, wall-mounted heaters are up and out of the way of customers, so they aren't in danger of being touched or knocked over.
At Smart Fire, our Bromic Electric Heaters can be installed with minimal vertical clearance space, making them perfect for awnings and low ceilings. So when you consider the amount of space your client has for a commercial outdoor electric heater, bear in mind that they do not need a premium amount of space.
Will Your Customer Want a Portable Heater?
Heaters can be stationary or portable. The advantage of stationary heaters is that they tend to be heavy and solid, making it difficult for customers to accidentally knock them over or damage them. However, portable heaters offer the flexibility of placement, so they can be moved into more optimal spaces dependent on the need. In a restaurant, for example, a portable heater can be moved closer to customers.
So you will need to establish the layout of your customer's commercial spaces to determine whether they would benefit more from a portable heater or a permanent heating fixture. At Smart Fire, our Bromic Tungsten Portable is a gas heater with outstanding versatility and positioning that can be taken apart for storage or portability.
Are Heaters for Warmth or Atmosphere?
The simple answer to whether outdoor heaters are there for warmth or to create atmosphere is that they're for both. Outdoor heaters emit soft, discrete heat to provide warmth to customers so they can withstand cold temperatures while sat outdoors, but they also create a subtle ambience thanks to their low-intensity glow.
So, your clients can have the best of both worlds with an outdoor heater. They can provide outdoor seating to their customers in a warm environment while also allowing them to enjoy the wonderful atmosphere that these heaters give to a space.
Image: Bromic Tungsten Gas
Can a Heater Be Subjected to Wind and Rain?
Having a commercial outdoor gas heater or electric heater might make you concerned about the elements damaging them, but this is not something to worry about. Outdoor heater models are designed to be effective against wind and rain, delivering consistent heat despite the elements. There's no need to worry about the systems being damaged; they are rugged and designed to withstand even the harshest of UK winters.
At Smart Fire, we stock a wide range of heaters, including those from Bromic. Bromic provide innovation outdoor electric and gas heaters for commercial and residential applications, combining revolutionary technical advancements with a modern aesthetic.
Bromic heaters deliver an even dispersal of heat and provide long-lasting performance and durability, so contact us today to find out more about our extensive range of outdoor heaters.