Do Patio Heaters Actually Work?
admin
Most homeowners, as well as business owners, will want to do something with their outdoor spaces. However, many may also wonder whether a patio heater is really the best option. Does it actually heat up a beer garden or a gazebo or is it an exercise in futility due to all the open space?
A patio heater makes all the difference when it comes to keeping an outdoor space warm and, in this article, we're taking a look at how they do it – and why you should get one for your client's project.
Do Patio Heaters Really Work?
Outdoor heaters are incredibly effective because they use a more direct type of heating by projecting warmth exactly where it's needed.
No matter how big your client's patio, garden, balcony or any other type of outdoor area is, these types of heaters can do the trick. This is because they make use of something called radiant heating, meaning they heat the object directly, instead of heating the air around it. The result is that they produce hot air that doesn't disperse like a traditional fireplace would, making them ideal for large spaces.
Outdoor heaters can be electric and gas, so you have several options at your disposal. They have different features, so it's a matter of choosing which type is best suited for a home or commercial space. For example, electric heaters tend to be more cost-effective and there is no need to refill them, while gas heaters give off wide-ranging heat, which is great for large areas.
Patio heaters are designed to make your clients' life easier on chilly days and nights, and there are so many models out there that you can easily pick the one tailored to their needs and requirements.
Patio Heaters at Smart Fire
Our infrared radiant heaters are capable of delivering 86% efficiency due to its special NANO painting on the Igneous heating panel and also come with reflective heat storage design, which offers low carbon and environmentally-friendly benefits.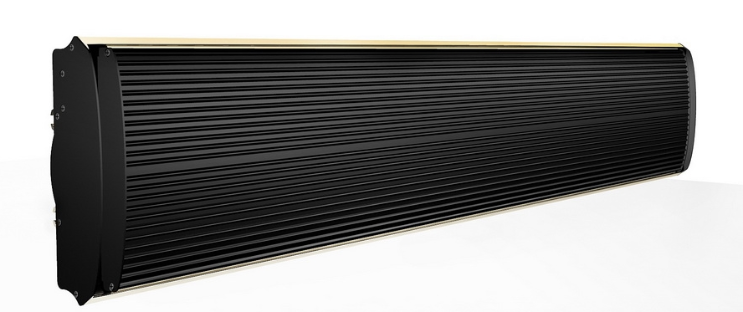 By warming the human body naturally because of their ability to focus heat on precise spots, these heaters are perfect for a wide range of applications. They also have power outputs between 1000-3200W, which is an efficient way to heat any outdoor space while lessening the environmental impact at the same time.
These infrared heaters are suitable for the outdoors, as they have great weatherproof capabilities and can easily withstand different weather conditions.
GlammFire also manufacture great commercial patio heaters, which will easily provide your clients with the heating solutions they need for their outdoor areas. Outdoor heaters are not just aesthetic – although they're stylish and suitable for a variety of décors – they're also highly functional. These gas heaters are produced with quality in mind, as they have the ISO9001:2008 and the ISO 14001:2004 certifications.
One of the key features of these fires is their remote-control capability. They allow your clients to set and forget, so they don't have to keep getting up and don't have to worry about monitoring the heater. You can also rest assured that these heaters are eco-friendly; in fact, all of GlammFire's products are designed with the planet in mind. This intelligent design ensures great heat output as well as flame stability and safety of ignition, among others factors.
We also have a vast range of bioethanol fires from the Portuguese brand at your disposal, which includes outdoor bioethanol firepits for both domestic applications and for commercial settings, be it a restaurant, a pub or an art gallery (these fires are ideal for anyone seeking a combination of functionality and design as well). A great example is the Stravaganza GlammFire Fireplace: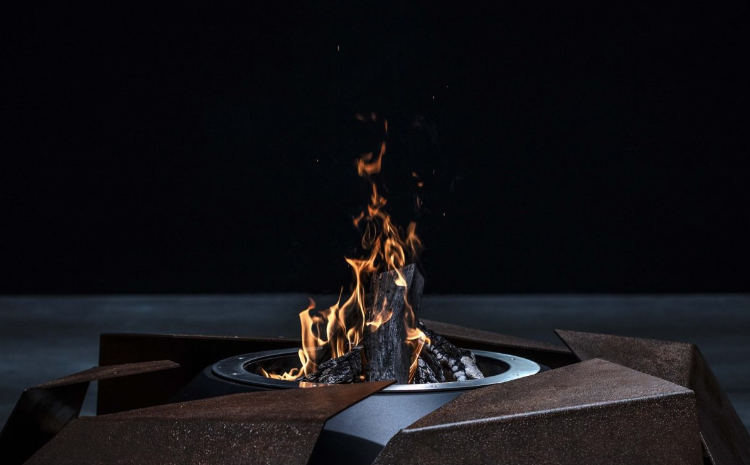 You can also find Bromic heaters at Smart Fire, both in electric and gas forms. These heaters distribute heat evenly and can cover up to 200ft, which is great news for everyone with a large area to warm. With sophisticated designs, superb heat efficiency, a smart safety system and resistance to wind, Bromic is a great option for any commercial space.
How to Increase the Efficiency of Patio Heaters
While the patio heaters we provide here at Smart Fire are already highly efficient, you can always boost this efficiency by putting some measures into place. For instance, why not add windbreakers that can help to keep the space insulated, allowing it to retain heat better? Having an awning is another fantastic way to ensure everyone stays warm while outside on a chilly evening.
It's also imperative to make sure that the right type of heater is chosen. Gas heaters may be the better option for larger areas, so keep this in mind when making a decision. When installing the heaters, you'll want to place them in such a way that heat will be directed towards people, not the objects in the space, since they give off radiant heating!
Patio heaters provide all the warmth your clients are looking for while also offering a contemporary aesthetic. We have many different outdoor heaters here at Smart Fire, so you'll be spoilt for choice. Please don't hesitate to contact us at any time to talk about our heaters or bioethanol fires – a friendly member of our team will be happy to discuss your requirements with you.