Tabletop Fires: Beautiful and Functional
admin
GlammFire is well-known for manufacturing world-class bioethanol fires. The Portuguese brand has been designing fires that complement a variety of homes, businesses and lifestyles, and their tabletop fires are no exception. Long gone are the days where homes only had wood-burning fireplaces – now, convenience and comfort are key.
The epitome of luxury, these bioethanol-fuelled fires are great pieces to have in the house, as they look great in any surface or room. Take a look at what makes these tabletop fires so great.
Why Choose Bioethanol Tabletop Burners?
We're proud to be exclusive UK distributors for GlammFire products, especially as quality is something the brand values above all else. With GlammFire, you have the peace of mind of knowing that all fires, including our tabletop burners, are manufactured to the highest of standards. The fires in the brand are ISO9001:2008 and ISO14001:2001 certified, so you can rest assured your clients will receive only the latest in fire performance.
Another thing that makes our bioethanol tabletop burners such a fantastic choice for the home is their versatility. They can be placed virtually everywhere, from the living room to the bedroom, and are just as great as coffee table decorations as they are as table centrepieces.
Their different sizes, materials, colours and shapes offer a great deal of choice to your clients – and ensure a design that is customised to any setting.
In addition, GlammFire's tabletop burners are the perfect blend of art and performance. This means that they've been designed with style in mind but they're also functional, so their modern aesthetics allow you to match any contemporary décor with ease. Capable of elevating any room to new heights, our bioethanol tabletop burners will delight your clients' guests and ensure their interior design is always on trend.
Classy, inspirational and sophisticated, our bioethanol tabletop burners add a new dimension to the home and draw everyone's attention immediately. They're also unique statement pieces that your clients will love to add to their living room, dining room and even patio.
GlammFire also believes in protecting the planet. Their fires, including their tabletop burners, are sustainable and meet the latest industry requirements. By creating products that respect the environment and use biofuel, GlammFire also meet the needs of the eco-conscious consumer.
Suitable for both commercial and domestic settings, the brand's bioethanol tabletop fires are designed with safety in mind as well, so your clients never have to worry about a thing.
Tabletop Bioethanol Fires at Smart Fire
What tabletop fires can you find at Smart Fire? We stock a variety of GlammFire products, so you'll be spoilt for choice; we can help you to find the right piece for your clients, so let us know if you'd like to learn more about the tabletop burners we offer.
In the meantime, why not take a look at the Bliss Tabletop?
You can select from a stainless steel or lacquered steel material and enjoy the different colours this model has to offer, ideal as a beautiful contrast to a neutral interior design palette, for example. With an autonomy of 3 hours, these burners will keep on going throughout the evening, so your clients won't have to top up in the middle of a party!
Additionally, the tabletop fire comes with a protective glass around the burner, which is resistant to high temperatures. Not only does it look stylish, but it also adds to an already safe product.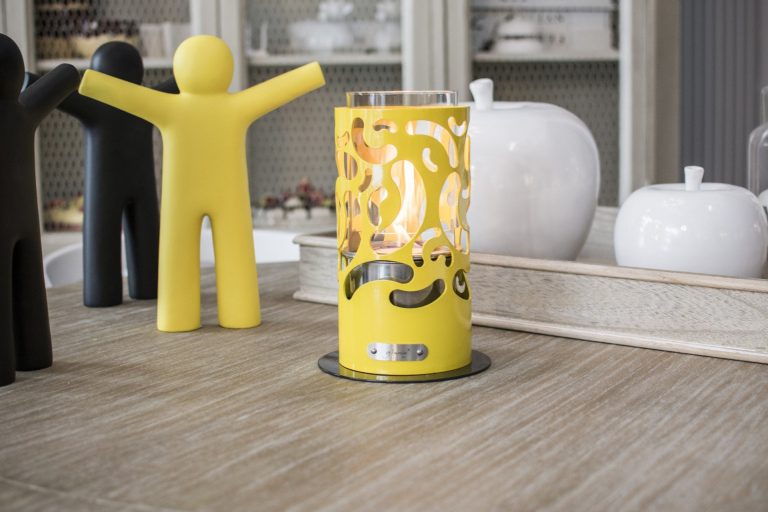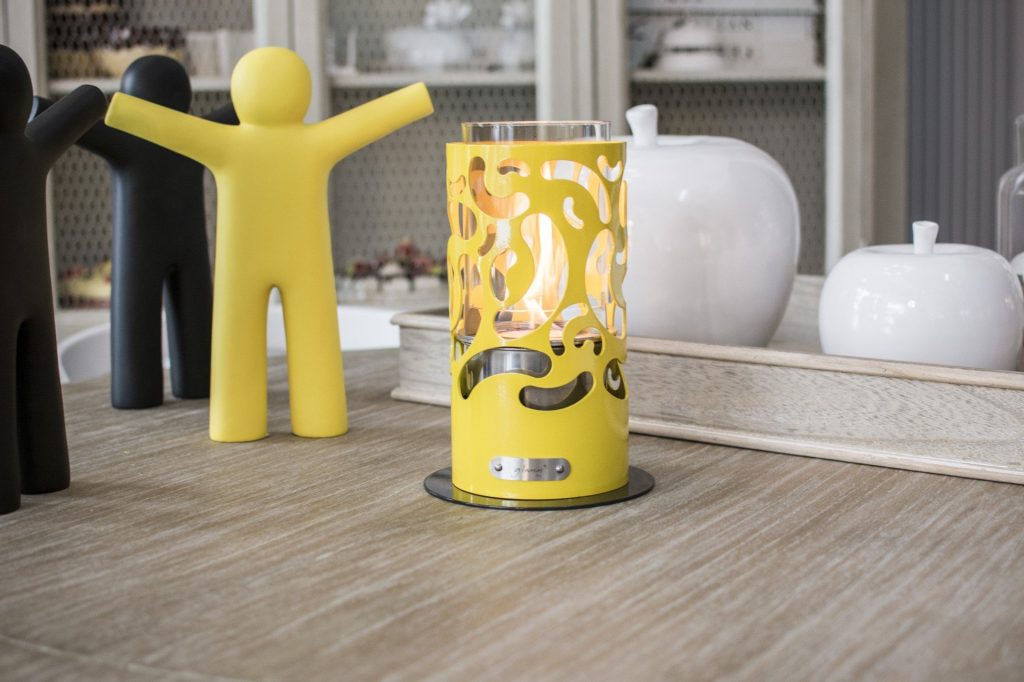 The Oblique Tabletop Double fire is another great piece. Incorporating two burners on its ramp, it offers double the sophistication. This unique fire is beautifully contemporary and comes in stainless steel and lacquered steel. It has an autonomy of 3 hours as well, ensuring plenty of time for all your clients' requirements.
The many colours of the burner offer even more flexibility, since they allow it to complement any décor or interior design.
Both of these fires are fairly lightweight, which means they can be easily moved around depending on your client's wishes. Whether they're hosting an evening with friends or adding romance to their restaurant's ambience, these versatile tabletop burners can be tailored to any environment.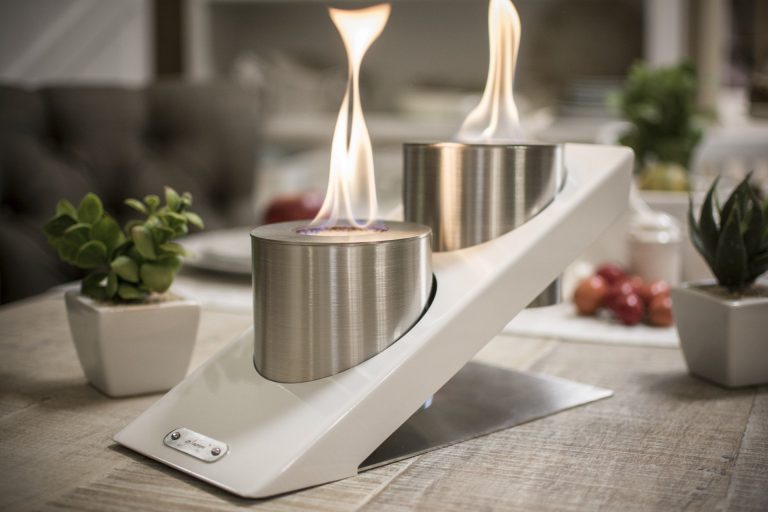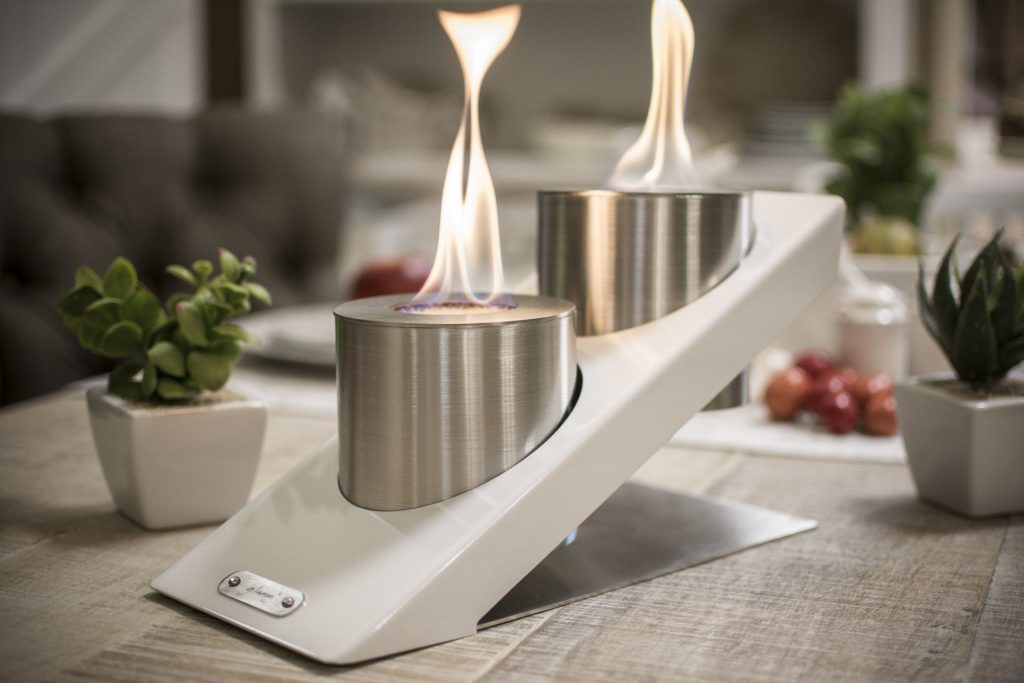 At Smart Fire, we strive to provide only the best in fire technology and design. Our GlammFire tabletop burners are a great example of that – eco-friendly, stylish and high in performance, we're confident that they're the perfect touch to any of your client's property or décor.
Get in touch with us to learn more about our bioethanol fires, and our friendly team will be more than happy to help.