Does Your Commercial Space Need a Heater?
admin
If there's anything the last year or so has taught the hospitality industry, it's that outdoor spaces are crucial. For many businesses, having an outdoor space was the only reason they could continue to operate during those months when indoor dining and drinking was restricted. But even for restaurants and bars that already had outdoor seating available, the unpredictable British weather meant that many of these places had to keep their doors closed.
But it was outdoor heaters to the rescue! There has been a boom in heater sales throughout the pandemic, with a considerable increase in the number of people searching for "outdoor heaters" online. Heaters helped restaurants and bars continue serving during those chilly months at the start of the year, and once summer starts to wind down, they will likely pick up once again.
Here's a look at the reasons why your commercial space could benefit from a heater.
Avoid Closures
Indoor dining is virtually back to normal, but that doesn't mean we might not see closures in the future. Whether another outbreak or even a new virus, there is always the chance that the hospitality industry could suffer massive closures once again.
If indoor dining does become restricted, you can continue to serve customers in your outdoor space, avoiding a complete closure and allowing you to stay open and bring in money. Heaters will enable you to open and serve even during the cold months when the weather is not ideal, optimising the number of days you can stay open.
Increase Customer Base
Even as things get back to normal and indoor dining resumes, there will still be a certain number of people wary about going back into crowded restaurants. Whether they have a weak immune system, live with someone vulnerable or would just rather not take the risk, surveys would suggest there are plenty of people who will continue to be cautious in the months and years ahead.
If you have an outdoor space and heaters keeping it warm, you can welcome those who feel a little more anxious about going back inside, widening your customer base and increasing your profits.
Increase Customer Capacity
With heaters in your commercial space, you can increase the number of customers you can serve at a time by extending your business operations outdoors. As social distancing may be brought back in the future, you need to take advantage of all the space you have available. The hospitality industry relies on keeping its capacity as full as possible to boost its profits.
By opening up your outdoor space and keeping it heated with commercial outdoor electric heaters, you can increase the number of customers served, helping to maximise profits and minimise any losses from future indoor-dining restrictions.
Create an Atmosphere
When people walk around a town or city centre trying to find a bar or restaurant, one thing they will be instantly drawn to is a comforting, lively looking space. By utilising outdoor heaters, you get an extra boost in the form of a welcoming atmosphere thanks to all the patrons sat in your outdoor area enjoying your services.
People love dining and drinking outside, and these outdoor diners will act as a magnet to other patrons, letting them see just how welcoming, enjoyable and amazing your restaurant or bar is. As people look for somewhere to eat, they will be instantly drawn to places with people sat outside as they can get a better idea of what to expect.
Convenient
At Smart Fire, we have a range of heating solutions available, including the Bromic Heating range of gas and electric heaters. These revolutionary heaters combine the very latest in technological advancements with modern design aesthetics. They are uniquely designed to blend into any contemporary setting, able to be mounted up high or even fitted into a ceiling for complete invisibility. Bromic electric heaters will emit a wonderfully radiant heat while staying out of sight and out of mind, not risking any collisions with patrons.
Operated with an easy-to-use remote control, Bromic heaters are the perfect, convenient solution to your commercial heating needs. Whether you want something for your indoor or outdoor space, we will have a Bromic model to suit your needs. With an even distribution of warmth and a coverage of up to 200ft, smart safety features and flexible and adjustable heating settings, we can help you find the ideal commercial heater for your business.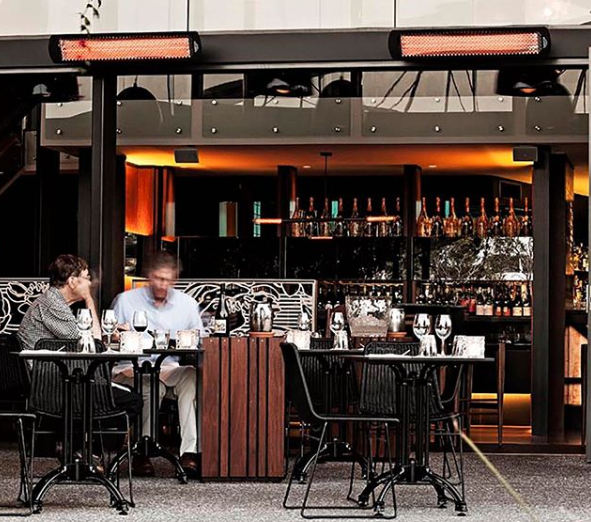 At Smart Fire, we are dedicated to providing the most efficient, intelligent and environmentally friendly indoor and outdoor heating solutions. Aside from our innovative Bromic electric heaters, we also exclusively supply Neverdark and Smart Fire burners.  These bioethanol burners can provide a wonderful touch of luxury to any commercial space. We also have our own brand of outdoor patio heaters, Igneous, stylish infrared heaters with low energy requirements.
Contact us today to learn more about our heating solutions.