How a Fireplace Can Transform a Room
admin
A bioethanol fireplace isn't just a great asset in an interior design project in terms of space and money – it is also an interior designer's dream for completely transforming a room.
The feel and aesthetic of a room can be converted to a haven of tranquillity and style with one simple addition – a bioethanol fire. Not only does the room open up due to size benefits, but the cosiness levels peak.
It's true when they say a fireplace can completely alter a rooms décor, and as an interior designer, it can really be a vital tool in your arsenal.
Focal Point
Using a fireplace as the all-important focal point within a room, the homeowner, and guests eye will be drawn to this statement piece.
As a key piece, a simple yet elegant addition of a fireplace can bring together the whole room, certainly when you make your bioethanol fire the focal point of a room. Don't forget that you can have your bioethanol fire in any room to create that attention drawing feature – from the bathroom to the kitchen, living room and even the garden area.
Here are just a few ways in which making your fire the focus of your room can transform the space:
Feature Wall – Why not opt for a brighter, bolder colour surrounding the fire? For example, in a neutral themed room, apply a dark and sultry colour around the fire.
Bold Artwork – The area surrounding your fireplace is the perfect opportunity to get creative with your decorative choices. One single and unique piece of art above your fire can draw the eye in.
Get Creative with the Hearth – There's no reason your hearth has to be a 'conventional' one. Think creatively when it comes to your customer's hearth and all eyes will immediately look to the unexpected element.
Unexpected Place – Who said you need to have your fire on a wall? While it does draw in the eye if the wall is prominent when someone first walks in the room, but if this is not the case then why not have your fire at the centre of a room? Think outside the box.
Expand the Width – The norm isn't quite what you should be going for if you want your customers to know and love you for being a bold designer. A wide fireplace can take advantage of a larger wall space and certainly draws attention.
Space Benefits
One of the fantastic benefits of a bioethanol fire is their space-saving qualities. Because they do not require a chimney or a flue you can place the fire anywhere in a room; you can even move them from room to room, meaning they can transform whatever rooms needs it.
Got a client who is organising a party? You could suggest moving the fire for the event. After all, the kitchen or garden are considered the hub of any soiree.
Because of their movement powers, they also save space. The fires unique and innovative design allows them to still transform a room if space is restricted – from a small apartment to small hallways and even box rooms – reassure your customer that space is not an issue when it comes to wanting to install bioethanol fires.
Mix and Match Colour Schemes
Many fires can be tailored to your requirements and colours. Some are even transparent, so your colour scheme can always be taken into consideration.
As an interior designer, many frustrations will come your way when setting sail on a project – but when choosing a bioethanol fire, you will not only receive great quality for you and your customer but no limit on the way you can incorporate it into your colour scheme.
Transforming a room with your creative vision has never been easier – certainly when it works around the bioethanol fire being the main emphasis of your colour scheme.
Don't forget about Pantone's colour of the year in your fireplace project this year.
Ambience
There's no doubt about it that fires can create a cosy and romantic ambience. There is nothing better than relaxing by an open flame with a drink after a long day in the office. Every activity – from working at home to reading is transformed into an enjoyable task.
With a bioethanol fire, you aren't just transforming your client's room, but you are transforming their lifestyle.
Accessorize
Yes, colour scheme is a priority for you, but once the main base of your project has been delivered and your walls are covered in the finest wallpaper, your colour scheme is perfected, and your bioethanol fireplace is in position, you need to put the icing on the cake – this is where accessories come into play.
There are various ways you can decorate the surrounding area and transform your room with a few trinkets. There are many new trends emerging this year to get creative with which will completely change the feel of any room. Here are some tips and possible suggestions for spicing up a fireplace area:
'The Key Piece' – Finding the centre of your mantel and using this as your foundation. These can include:
-1 Mirror
-1 Piece of Artwork
– Layered Artwork (2-3 different pieces in different sized frames)
– Clock
– Decorative feature
'The Symmetrical Style' – If your mantel was divided in half, this style would provide the same on each side.
– Use decorative triangles
– Use 2 simple objects on either side
As an interior designer, it can sometimes get tiresome to follow the norm. Why not step outside your comfort zone and consider something more unique for your fireplace design. What about suspended accessories or even just break the boundaries all together – no symmetry and no balance – maybe one piece off centre?
Use the Clients Personality
By having a discussion with your customer and finding out about their design preferences you will understand their personality when it comes to interior design. Use this to your advantage and incorporate this into their design and layout. Are they an avid reader? If so, what about a bespoke bookcase surrounding the fire? Do they like to socialise? Maybe incorporate a socialising area around the fire instead of conventional accessories.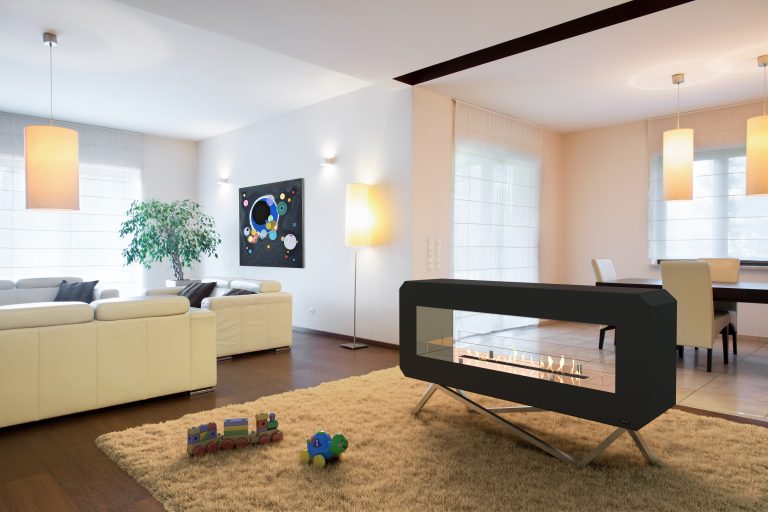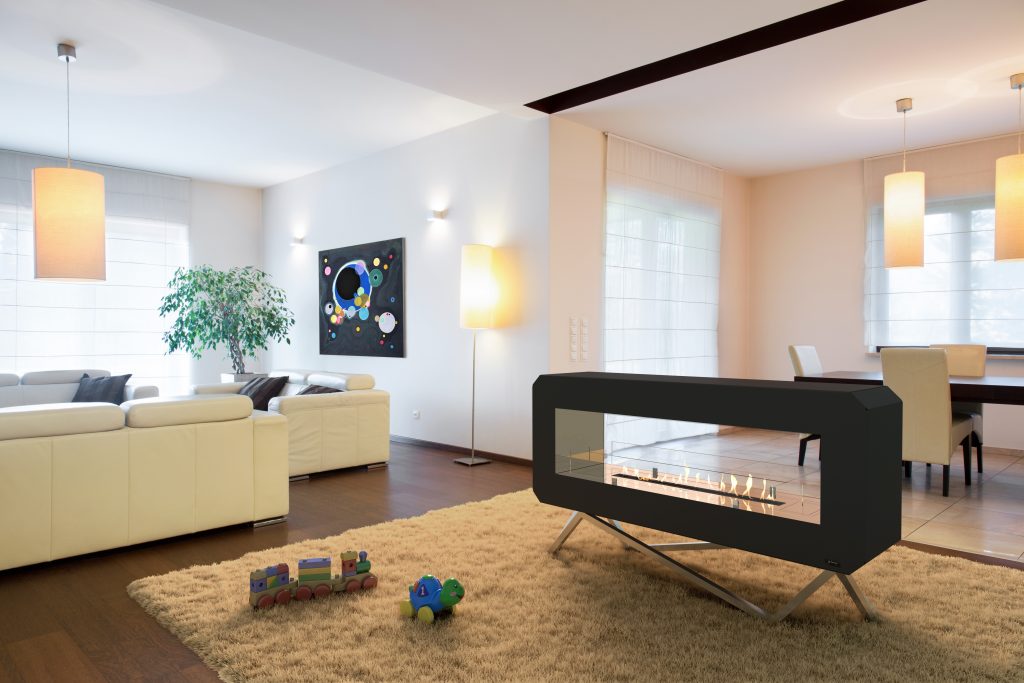 These innovative décor pieces are transforming the way we think of fireplaces. Unique and efficient heating methods such as the sophisticated styling of a smart fire are a brilliant way to completely lift the design of a room. If this is the key aim of your project, you should prepare for a great outcome!
Interior designers are constantly looking for new ways to transform their client's spaces, and while the decisions are constant, the battle of trends is made much easier when you utilise the great benefits of the bioethanol fire.
If you are looking for a flawless focal point and design masterpiece for your project, the team at Smart Fire would be more than happy to provide further information and find you the perfect bioethanol fire, or enable you to buy biofuel for one. We look forward to helping you bring your ideas to life.