Out of this World: GlammFire's Futuristic Fires
admin
Beautiful design and quality are incredibly important to Smart Fire, and GlammFire offer the perfect combination of the two. Our gorgeous bioethanol burners are suited for anyone looking for a fire that not only looks good, but also meets the highest environmental and safety standards.

One line of their bioethanol fires stands out in particular for their one-of-a-kind, dramatic appearance; the brand's suspended fires – the Eudoxus, the Pythagoras and the Thales – offer something unique to the contemporary home, a futuristic aesthetic that enhances the décor of any interior.
Take a look below at how these fires can transform a space into a dynamic atmosphere.
Eudoxus, Pythagoras and Thales
Looking like they were taken straight from a space-age home, GlammFire's suspended fires are innovative, unique and imposing. A combination of art masterpiece with functionality, this revolutionary range adds a touch of glamour that is worthy of the most luxurious interiors.
All three fires use the Crea7ionEVOPlus burner range and come with a black lacquered steel finish; the Thales model is also available with a gold finish inside. The heat output of each suspended GlammFire model, as well as its fuel longevity, will depend on the size of the flame and the burning time. This can be easily regulated by simply sliding the opening from the minimum to the maximum position.
Eudoxus
This model is a double-faced piece that looks just as much at home amongst contemporary home décor as it would on a hi-tech spaceship. Despite its hard edges and arresting colour, the Eudoxus fire also projects a feeling of serenity, enveloping a room in style and warmth. It has an autonomy of 6 to 8 hours and a 3-litre tank, and it measures over 2 metres.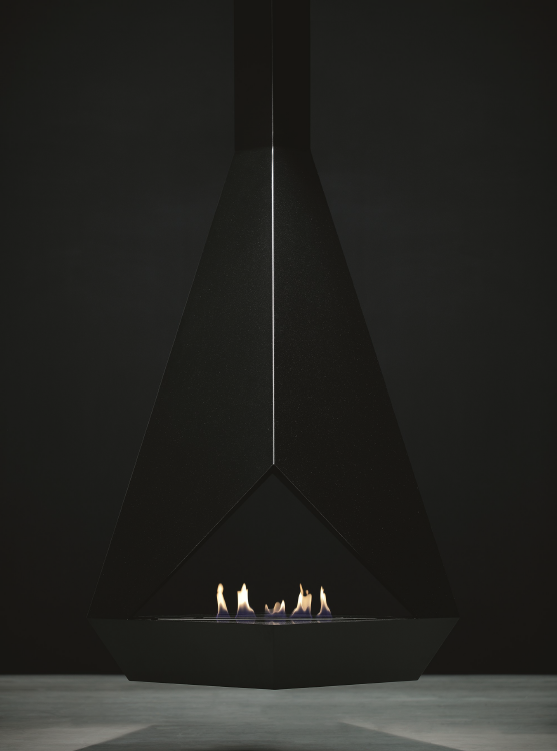 Pythagoras
The straight lines and triangular shape of this fire creates long edges and a defined geometric aesthetic. Perfectly accentuating the bioethanol flame at its core, this sculptural model is perfect for anyone seeking the marriage of beautiful design with high-end practicality. Measuring over 2.5 meters and capable of a burning time of 15 to 25 hours on a 10-litre tank, the Pythagoras is best-suited for the homeowner seeking a fireplace that is also a work of art.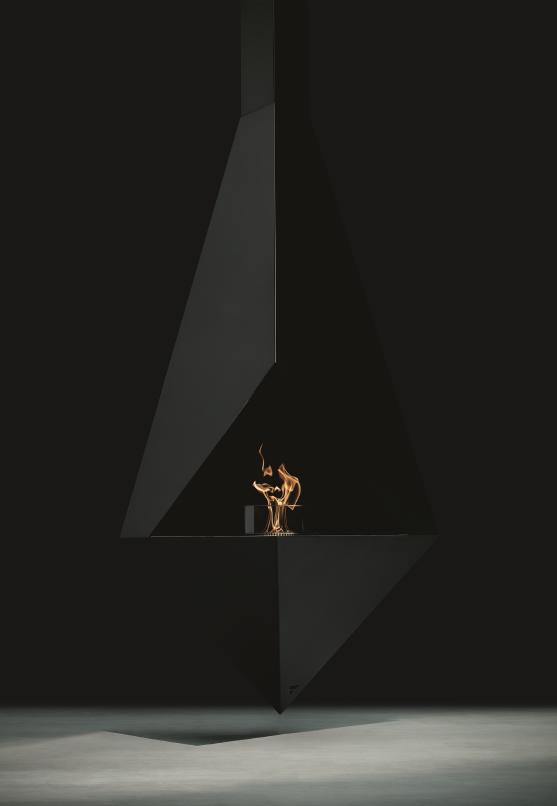 Thales
Also inspired by a geometric shape – in this case, the circle – the GlammFire Thales model is a versatile and adjustable piece that uncovers the beauty of the fire within. It's possible to rotate the two main components of this fire, adding a sophistication and visual interest that few fires offer.
Measuring over 2.5-2.7 metres, the Thales comes with an autonomy of 15 to 25 hours and a 10-litre tank – the perfect accessory for any home as temperatures drop, offering a cosy aesthetic that is, at the same time, chic and modern.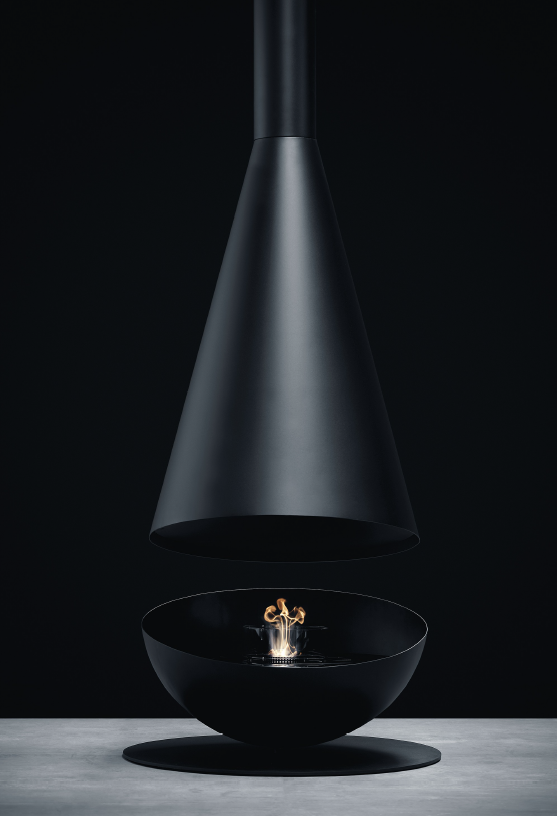 Advantages of a Suspended Fire
With such a unique aesthetic, suspended fires are a striking addition to any modern home. They have such a presence that they immediately draw the eye and create a visual impact that is unlike any other.
To take full advantage of such exceptional bioethanol fires, why not ensure they're the focal point of a space, such as the living room? You can install the Eudoxus, Pythagoras and Thales in the centre of a room and it will shine like a beacon, instantly transforming the interior into something special. The same is true for corners; the unique aesthetic of these models means that they will call attention as soon as you walk into the room, no matter where you choose to place the fire.
With these suspended fires, your customers can easily enjoy the welcoming sight and warm glow of a fire without having to worry about smoke and ash. They can be effortlessly incorporated into several different types of décor as well, from a more minimalist one to an industrial or even Scandinavian interior.
The Eudoxus, Pythagoras and Thales are open, providing a constant flow of oxygen and require no gas connection. You get a real flame with heat without the hassle of a traditional fireplace.
GlammFire create dynamic ranges that feature the best of global design; these suspended models from the Portuguese brand are the epitome of elegance, beauty and style, and are evocative of an ultramodern home of the future where functionality and aesthetics go hand in hand.