How to Use Pantone's Colour of the Year in Your Fireplace Project
admin
Pantone's Colour of the Year has always consisted of interesting tones that can be easily incorporated into any interior design – and elevate it to new heights! The 2018 choice is no exception.
The focus this year is on Ultra Violet, a beautiful shade of purple that, according to Pantone, "communicates originality, ingenuity, and visionary thinking that points us toward the future."
Just have a look at the new swatches below, straight from Pantone itself: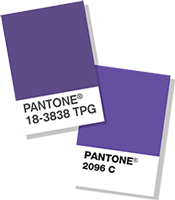 As an interior designer, there are many ways that you can use this colour in your next project, and certainly as a key feature of your fireplace décor.
That's why, here at Smart Fire, we've decided to look at some of the ways you can create an ultra-stylish space with ultra-violet.
Previous Pantone Choices
We always love Pantone's choices for Colour of the Year, which, over the last few years has ranged from Turquoise in 2010, to Rose Quartz and Serenity in 2016 and Greenery in 2017.
All these beautiful colours have been part of many interior designs over the years, so they still have an important place in many interior designers' hearts – and projects! The idea behind Pantone's Colour of the Year is to provide strategic direction when it comes to trends and design, which is why these shades are always evolving and changing.
2018 is the year of the ultraviolet (Pantone 18-3838), which promises to help create stunningly unique designs and unforgettable bursts of colour in the home. And, because purple is often associated with wealth and royalty, no other colours can convey luxury better!
How to Incorporate Ultraviolet into Your Fireplace Design
Ultraviolet is a rich colour, reminiscent of the night sky and of vibrant flowers. Because of the boldness of this tone, a great way to add it to an interior design is to also be daring. Don't shy away from creative decisions and celebrate this gorgeous shade with interesting decisions.
There are many ways to go about it and create a fantastic design with ultraviolet, such as:
Accent Wall
A focal wall is a perfect way to incorporate ultraviolet into an interior design. It is perhaps your ideal chance to incorporate this year's Pantone colour to your fireplace area. You can emphasise the wall surrounding your chosen fire with this bold ultraviolet colour, drawing attention to the fire and complementing the radiating warmth.
Adding to the room's cosiness, a feature ultraviolet wall is, while a bold and brave choice, a modern and quirky alternative.
Whatever your fire preference – whether a bio-ethanol firebox or a fire burner; – the sleek designs of Smart Fire's products will create a lively, vibrant and fresh approach to interior design, not to mention your very own feature art piece.
You only have to look at this below image to envision how the feature wall would look in a daring ultraviolet colour. It would complement the furniture and create an eye-catching decadent space.
Furniture
Ultraviolet pieces of furniture, such as sofas, can add a classy and elegant element to any room. Its power lies in its ability to contrast with the existing décor, especially if the overall space is understated.
By utilising a pop of this bold colour in your interior design, you can use it to your advantage and create an ultra-modern and distinct décor. While this colour may be a step outside of a colour comfort zone, one of its greatest assets is that it can complement both contemporary and traditional interior designs.
Just imagine a bold ultraviolet feature chair or chaise lounge by your similarly modern fire; a dramatic and elegant space is created instantly. You could even incorporate shades of copper or bronze with ultraviolet (what about a copper industrial table with a purple table runner?). An equally suave fire only accentuates the moody and dramatic ambience perfect for a feel of luxury.
Decorative Items
Accessories or accents in ultraviolet tones, like lampshades, vases, door knobs, flower arrangements on the mantelpiece, sofa cushions, candlesticks, and even bedspreads, can breathe new life into a room. They pop in the space and draw the eyes to details that, otherwise, may have gone unnoticed.
With the innovative advancement in fire technology such as bioethanol fires, the designs of the fireplaces themselves create new and exciting ways to decorate the area.
Envision floor vases, synthetic purple plants by the fire, or maybe an ultravoilet rug; a purple rug would certainly convey luxury, sophistication and elegance, highlighting the space and giving it a unique flare.
The bold colour and the beauty of a modern fire is a striking combination. A bioethanol firebox could be the perfect option for the avid accessory lover due to its extra space for trinkets and such.
In the Kitchen
Have you considered using ultraviolet for kitchen units? While this is not often a colour you find in kitchens, it is, undeniably, a fantastic choice!
The kitchen tends to be the room in which people find themselves mostly in. It's the place for socialising and, in many circumstances, an interior design haven. It is in fact, a room to be daring in.
Why not make the time spent in this room worthwhile and invest in an eccentric and bold colour scheme? This year's Pantone Colour could be the perfect décor decision.
The colour pops out and works together with different elements to create a bold look that is, at the same time, sophisticated, stylish, and elegant.
Incorporating even more modern and stylish features, such as plenty of artwork and an eclectic mix of old and new, can create a standout space. A modern bioethanol firebox could be a great feature amongst purple design aspects, especially when you can create bespoke colour surrounds with a Smart Fire firebox. It's an interior design dream no matter the colour.
Just imagine how stunning this kitchen below would look with ultraviolet. A feminine and powerful look would be produced, with the firebox insert becoming an even more stand-out feature.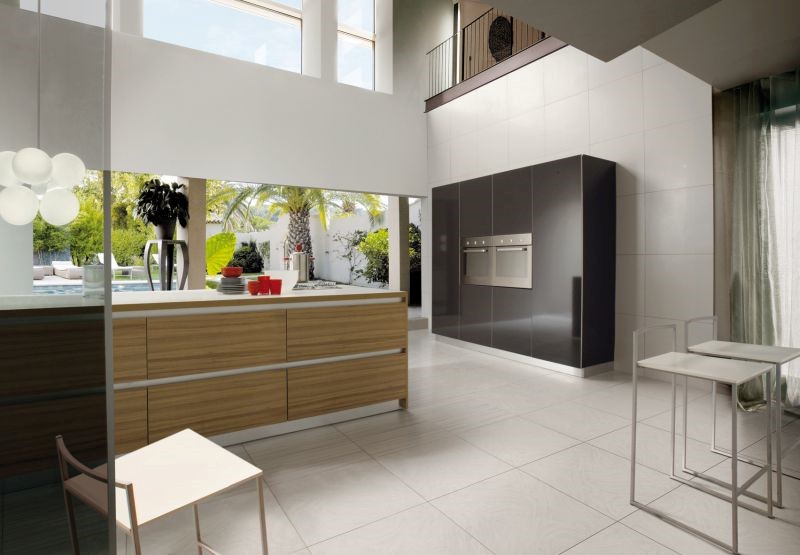 Colours can dictate the mood of a room, so what better way to express yourself or your client's vision than with the deep, sophisticated, and luxurious ultraviolet?
At Smart Fire, we are always here to answer any questions you may have about our products, so get in touch at any time to discuss our fireplaces or to buy bioethanol fuel. You can also visit our showroom to see for yourself how our fires can fit in beautifully with your project!