What Type of Bioethanol Fire Best Suits Your Client's Décor?
admin
Fireplaces come in such a wide variety of styles that there's no type of décor that wouldn't be suited to one.  GlammFire Bioethanol Fires in particular provide such versatility in terms of their design that they can be included amongst the aesthetic of any décor available.
So, regardless of what style of décor your client has in their home, there's a bioethanol fire to match. Here are some of the design aesthetics you may come across and which kind of fireplaces will best suit the space:
Modern
Modern is a rather broad term for décor, but it essentially means the opposite of a rustic or traditional home, often incorporating much lighter colours to give it a cool look, as opposed to a warm one.
A modern looking home can be expected to not have any, or many, ornamental items; a lack of cluttering; neutral colour schemes with a few smatterings of bold colours for contrast; clean lines and basic shapes with smooth, sleek surfaces; art pieces rather than personalised furnishings and the design is likely to have an open floor plan.
Modern décor is fresh and elegant with a love for simple palettes. For a fireplace to make its home in the likes of a modern style home, it needs to blend in with the simplistic, clean aesthetic. GlammFire have a wide range of stunning bioethanol fires. Take for instance the Urban EVOPlus, a model that stands out for its seductive elegance. Its sleek, clean lines make it the ideal fireplace for a modern environment. It can be placed virtually anywhere, either as a freestanding fireplace against a wall or as the focal point of a room. For modern style homes, elegantly designed fireplaces are ideal.

Industrial
Industrial style homes are popular for their resemblance to the likes of manufacturing facilities and warehouses, many of which may have been born out of the refurbishment of such buildings into homes and flats. Aspects of this kind of décor include exposed brick walls and beams to give an industrial feel.
Elements of an industrial design include leaving it looking raw and unfinished, they utilise rustic colours and utilitarian objects, antique fixtures with metal finishes and vintage pieces to create the industrial style. You often find that the floors are not carpeted and are made from concrete or stripped back floorboards.
Industrial décor is all about the raw look that is inspired by urban settings. For a fireplace to work here, you need to ensure it won't take away from the cold, eerie feel of the industrial style with too much warmness. Take the stunning Pythagoras fireplace from GlammFire. This suspended fireplace creates a wonderfully industrial look with its straight lines, long edges and defined vertices. It looks like something truly designed for the modern, cool aesthetics of an industrial style home.

Shabby-Chic
Shabby-chic is making strides in the design world with the rising popularity of vintage and DIY home décor. It strikes an interesting balance between rustic and glamourous styles with its worn furniture and delicate colour palettes.
A home designed to be shabby-chic tends to have a softer, feminine feel with the use of vintage fabrics, distressed and painted furnishings, pale colour palette and delicate floral prints. It takes its design aesthetic from vintage styles but with a leaning towards creating a more feminine space.
For a fireplace to feel at home amongst the gentle, airy ambiance found in a shabby-chic space, it needs to have a congruent style. Take the artistic looking Tile Tabletop fire from GlammFire. Perched unobtrusively on any table, the flames flutter gracefully behind the geometric shapes of the delicate casing. This fire will provide a gentle warmth and light to the space that highlights the beauty of the vintage pieces.
Minimalist
A self-explanatory name, a minimalist style implies a truly uncluttered, simple space with minimal furnishings or fixings. The mantra of the minimalist space is: 'less is more'. It is the modern style taking simplicity even further.
Minimalism is similar to modern styles in that it consists of clean lines, streamlined furnishings with no overly dramatic colours or patterns. There is no clutter, and the rooms are designed for functional living. Minimalist homes aim to impress with effortless beauty, using neutral colours, clean surfaces and natural materials.
For a sleek, elegant fireplace that would make the perfect solo table top piece for a minimalist home, the Cosmo Tabletop from GlammFire is ideal. It's delicate forms and spectacular design make it a wonderfully versatile fireplace for both blending into the décor of a home and also drawing the eye. For even the most simple and minimal of spaces, this fireplace can sit elegantly on any table top without appearing like clutter.
Traditional
Traditional style homes take inspiration from a variety of European styles that all come together to make what we recognise today as a 'traditional' look. They take inspiration from period styles such as Tudor and Georgian.
Traditional homes feature aspects such as intricate mouldings and wood panelling, elegant furnishings, antique pieces, furniture parings, fringe accents, luxurious fabrics with patterns like florals, stripes and plaids, muted colours with vibrant colours for accent pieces and exquisite lighting features like chandeliers.
Traditional homes make the perfect setting for large, grand fireplaces that oozes extravagance. Take the York EVOPlus from GlammFire, a fireplace with straight lines that creates a comfortable environment with its elegant charm. Combined with a sleek mantel piece to frame the delicate flames, the York EVOPlus can be embedded into traditional fireplaces to give all the style and sophistication of a real fire with the convenience of bioethanol models.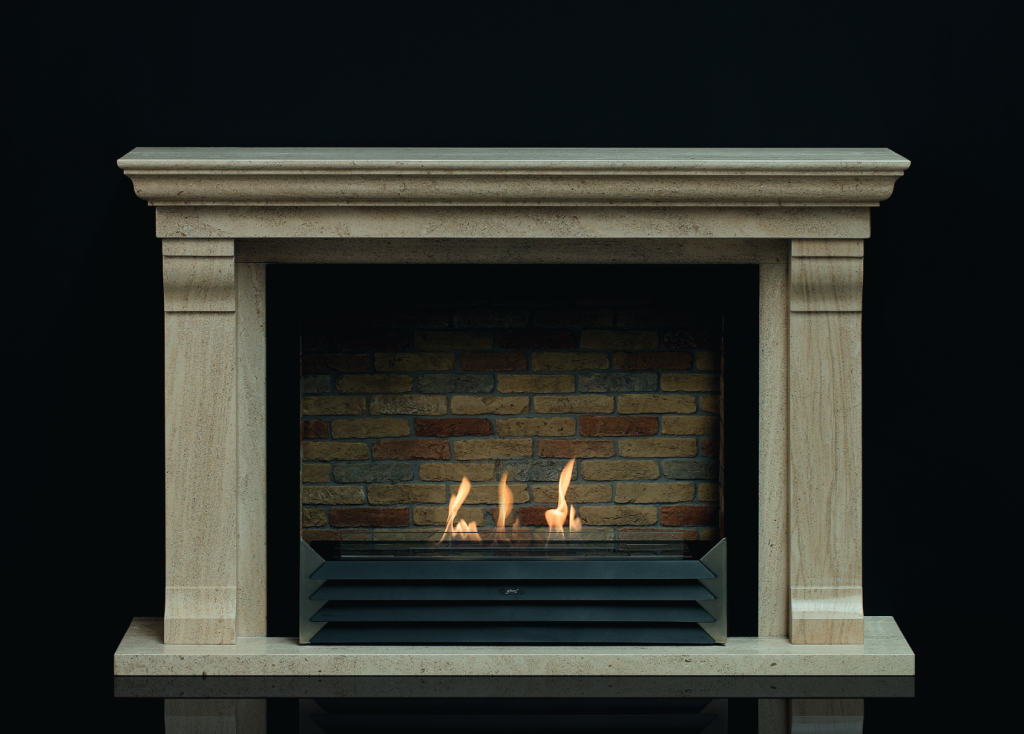 If you're looking for Bioethanol fires for your next project, Smart Fire will be happy to advise you on the suitability of models to help you decide which would be the best choice for your client's home.